Prerequisites:
A DRE license is a unique and robust license that allows its holder to perform a lot of activities related to real estate, including arranging, making, and selling loans to the public. However, it also comes with significant hurdles to entry and transactional restrictions. Alternatively, a CFLL is limited in its capabilities but it is very flexible and comes with very limited qualifications and transactional restrictions.
For these reasons, qualifying for each respective license is very different.

As you can see, qualifying for a CFLL is simpler. In addition to the above – a CFLL can be obtained by an individual or entity of your choice. However, a DRE license is obtained by individuals; those individuals will attach their license to corporations to obtain a corporate license.
Using the Licenses:
Both licenses are commonplace with lenders and brokers in CA. Lenders who arrange loans for unlicensed investors will typically utilize the DRE license to start. Many lenders who utilize a fund, line of credit or other forms of balance sheet capitalization will find the CFLL useful. However, they are not mutually exclusive, California lenders typically utilize both licenses because they provide an excellent balance to their lending operations.
As compared to a CFLL, DRE license provides a larger toolkit for lenders and mortgage brokers, but these capabilities are not without key restrictions and limitations.
DRE license brokers can arrange, originate, broker, and fund loans secured by real estate in California. It can also arrange the sale of loans to third parties and even act as a third-party loan servicer. DRE brokers also have securities exemptions created specifically for them to arrange investments in loans secured by real property.
In comparison, the CFLL is much more limited in its capabilities. The CFLL permits the licensee to lend, but only from its own balance sheet; meaning it must be the lender of record on all loans it originates and funds. In addition, it is limited in its ability to buy and sell loans. Although the DFPI permits CFLLs to buy and sell loans generally, it specifically states it may trigger DRE regulations that require a license pursuant to California Business & Professions Code Section 10131; otherwise, CFLLs are permitted to sell loans to "institutional investors" or other CFL licensees. It is important to note there are creative solutions to these restrictions.
Below is a comparison on the different capabilities and restrictions on both licenses.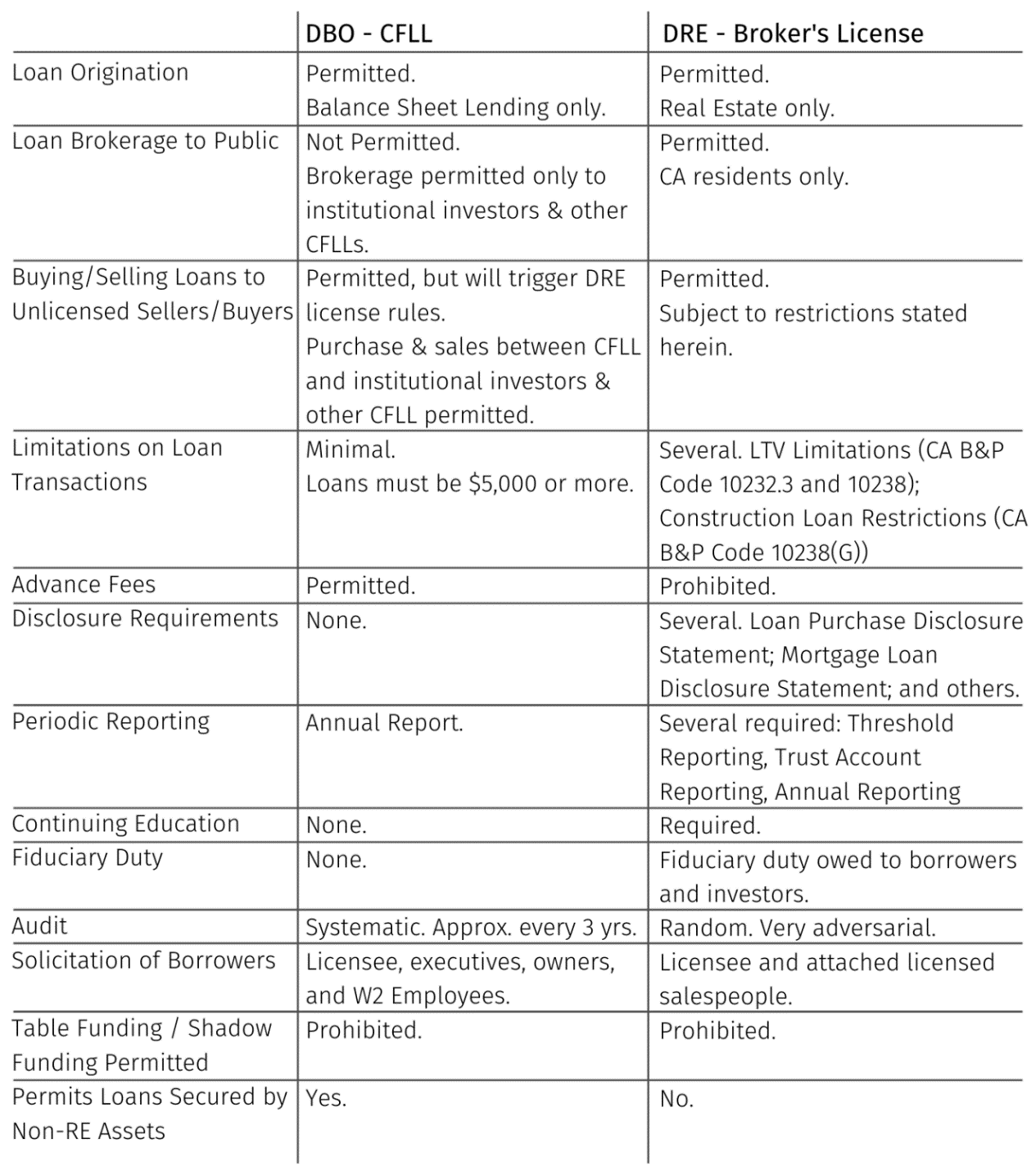 As you can see, there are stark differences between the two. Thankfully they are not mutually exclusive. Many lenders will maintain both licenses to ensure they have the full capabilities of both licenses. For lenders who lend directly from their own balance sheet through credit facilities, a fund, or borrowed funds, a CFLL can be essential to expanding their portfolio and freeing themselves of much unneeded regulation. As the largest private lending law firm in the U.S., we are well-versed in lending regulations in all 50 states. Click here to inquire about our 50-state licensing and compliance surveys compiled by Geraci's expert attorneys.